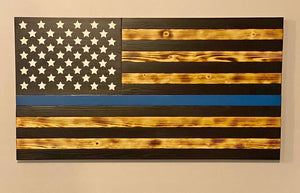 Custom made wood burnt Thin Blue Line American flag. Flag measures 20 inches in height by 37 inches long. Flags are made to order.
Multiple color options for first responders. Thin Blue Line-Police, Thin Red Line-Firefighters, Thin Gold Line-dispatchers, Green Line-Military.
Hardware to mount on the wall is included.
Customization available please contact if you would like your flag customized.